Permanent Cosmetics
The natural & low maintenance alternative to traditional cosmetics
"Kendra is seriously incredible. I followed her work until I finally decided to go ahead and the only thing I wish is that I had done it earlier!"
A Popular Solution
Permanent Cosmetics have become a popular solution for those looking for a natural & low maintenance alternative to traditional cosmetics. Also known as "cosmetic tattooing " or " micro pigmentation".
Services:
BROWS
Nano brows

Microblading

Powder/ombre brows

combination hairstroke/shading brows

colour corrections
LIPS
Lip blush

Permanent lipstick/liner

Lip contouring

Dark lip colour correction
What is Permanent Cosmetics?
Permanent Cosmetics is a technique where semi-permanent pigment is tattooed into the skin to mimic the look of cosmetics or to enhance natural features. Once healed, clients can expect their Permanent Cosmetics to last an average of 18-24 months before needing a refresh or " colour boost " appointment as the pigment slowly fades.
An appointment begins with a consultation to ensure the client achieves the desired result. There are a variety of different techniques & pigments used that allow the artist to create a completely customized look depending on how natural or " made up " the desired outcome is.
Clients have the opportunity to approve the exact design, shape, & colour before the procedure is performed.
All pigments we use are certified vegan, and pass the highest quality control standard testing for pigments worldwide (EU testing).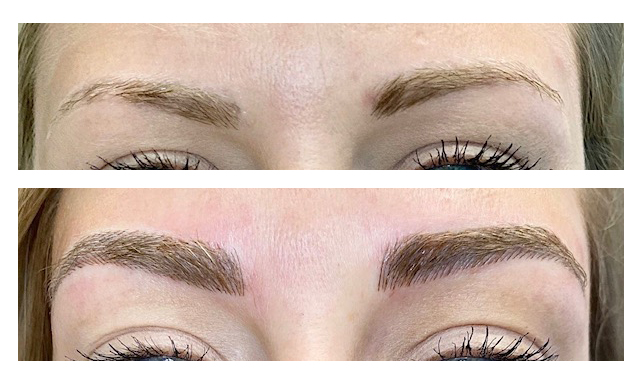 Is It Painful?
You can expect a mild discomfort during the procedure, however a topical numbing gel is applied, which provides a pain free experience for most people. There is a 14 day healing period where aftercare supplies & instructions are supplied.
Kendra offers a FREE 15 minute consultation for anyone considering a Permanent Cosmetic procedure.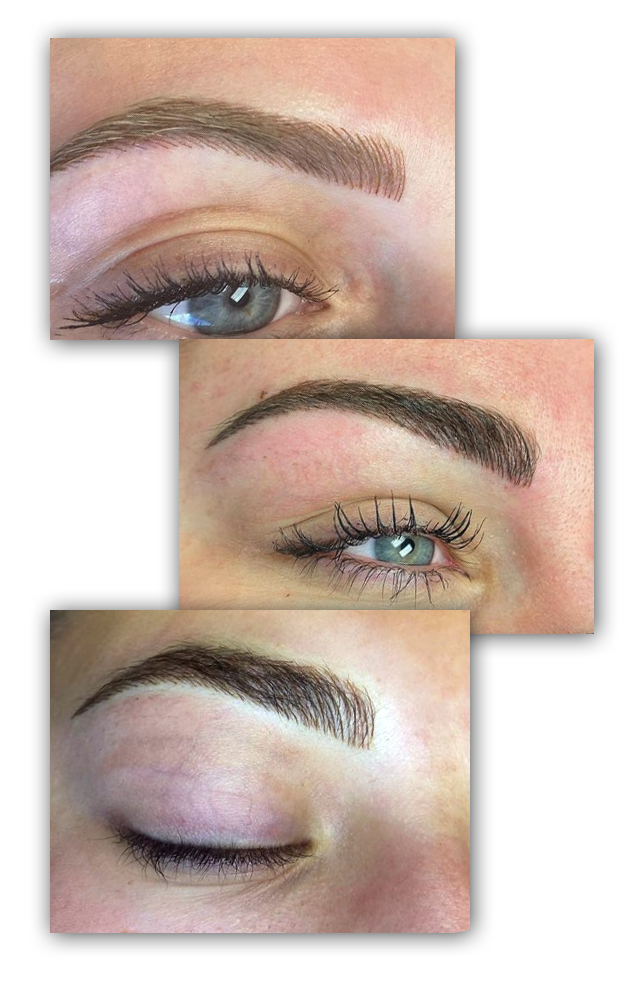 All Natural Pigment Lightening/Removal
Saline based pigment lightening/removal is a safe & natural alternative to laser tattoo removal. Li-FT pigment lightening works on both cosmetic tattoos & body tattoos.
Li-FT pigment lightening works by implanting a saline solution into the area where pigment is desired to be removed. The solution creates the process of osmosis inside of the skin, which encourages water to rise to the skin's surface.
The osmotic pressure created within the skin pushes the deposited pigment molecules up & out of the skin alongside the water.
Alternative tattoo removal methods such as laser removal work by breaking up the pigment particles within the skin until they are small enough to be absorbed by the body & metabolized. Saline based removal does not cause any damage to the skin's hair follicles – making it a great choice for brow removals.
We use Li-FT saline lightening solution because it is the most safe & effective solution available on the market today!
All removal clients require a complimentary 15 minute consultation to determine if they are a good candidate.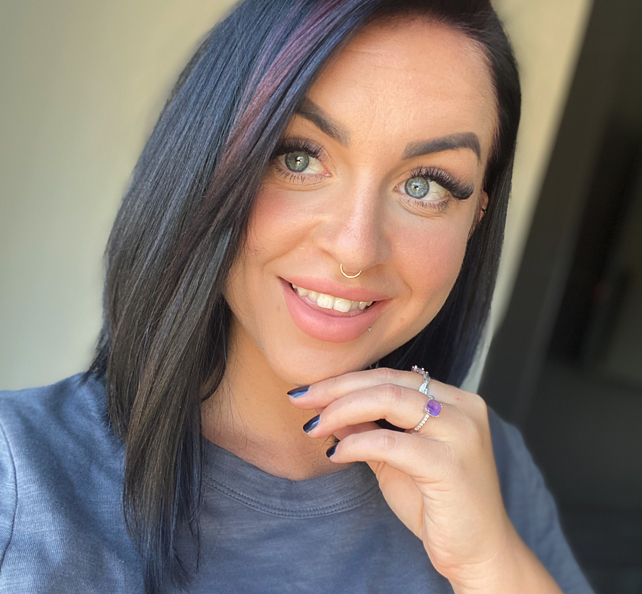 In 2014, Kendra took her Permanent Cosmetics training at BioTouch Permanent Make Up School in Vancouver BC Canada.
After working in the cosmetics industry for 3 years she was thrilled to find this new service which combined her love for beauty & passion for tattoos. Not to mention the AMAZING results!
Kendra brings a high level of professionalism to the industry by continuing her education in colour theory, skin science, and the newest techniques. After 7 years of providing Permanent Cosmetic services she has developed an "artists eye" which allows her to help her clients decide on a look customized to enhance their natural features. Every face is unique, and deserves special attention! "Permanent Cosmetics truly is my passion & I look forward to helping you achieve your goals!"
Certifications:
Bio Touch Canada – Full Permanent Make Up Education
PBL Training – Advanced Brow Creation & Nano Shading
Girlz Ink Academy – Powder Brows & Li-FT Pigment Removal
Luxe Lip Studio – Lip Blush
Wake up without having to make up.