Skin Tightening
A non-invasive, painless face lifting procedure with no down-time or sun sensitivity.
"My skin looks amazing. I have had many types of facial rejuvenation over the years including fillers and I have never seen better results … Try it,you will love it."  ~Karen Wood
We have options for you to choose from
With our world famous entourage of skin tightening technologies you can be assured that we have your needs covered.
As collagen is the foundation of the skin, we seriously focus on increasing yours.
Endermologie – world's best collagen synthesis

Lumilift – light based, pulsed microcurrents

AFA Peels – hydrating, non-peeling, sun-safe

Microneedling – sun-safe

Laser Skin Tightening

BOTOX and Fillers
We also carry Clayton Shagal's Collagen & Elastin gels and serums for at-home care.
You want results and we LOVE achieving them for you!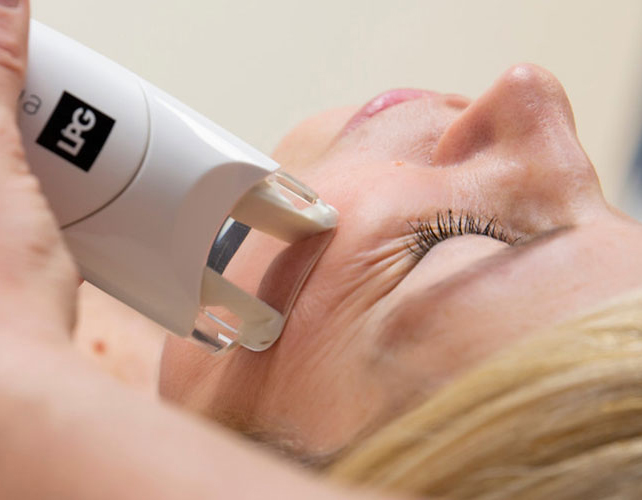 Endermologie
Endermologie increases:
Collagen by 100%
Elastic by 46%
Hyaluronic Acid by 84%
Tissue Density by 240%
No other technology in the world can guarantee these numbers!
Endermologie is also good for
Lifting and Toning
Diminishing fine lines
Improving droopy eyes and holowing cheeks
Plumping lips
Neck lifts and getting rid of that double chin
Contraindications: Cancer, HIV, Hepatitis, untreated high blood pressure, and untreated thyroid
Lumilift
Light based, pulsed microcurrent
Brings out a brighter and smoother complexion
Helps get rid of fine lines
Gives skin a nicer texture
Helps with toning and lifting
The Lumilift is especially effective when you combine it with Endermologie.
Contraindications: Epilepsy and auto-immune disorders.
For even better results, we often recommend the following as well:
AFA Peels
Microneedling
Laser Skin Tightening
Botox/Fillers
As soon as you feel too old to do a thing, DO IT.